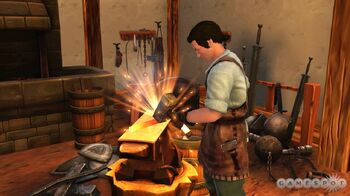 The Blacksmith is a Hero in The Sims Medieval. The Blacksmith's daily job is to forge various types of equipment that can either be sold to other Sims in the kingdom or passed on to other hero Sims. In the event of producing poor quality weapons or not producing weapons at all the Blacksmith can be put in the stocks. He gets the ore for his forging from ore deposits in the kingdom. As the Blacksmith levels up, he will be able to forge better quality armor and weapons.
Blacksmiths can also read Manuals of Blacksmithing, which are books that can unlock recipes for creating special, more powerful weapons.
The Blacksmith's house includes a stall set against the outside wall of the building, from where he can actively sell his crafted equipment. Selling items this way involves the same mechanisms and interactions employed by the Merchant (i.e. opening/closing the stall and checking merchandise, as well as the Compliment Taste, Butter Up, Hustle, and Ask to buy social interactions) but without the high margins that a high-level merchant recieves. The difference is quickly made up though: Blacksmiths can create their own stock.
The Blacksmith who uses the stall for active selling will also find a harder time with it compared to the Merchant because of certain routing issues (browsing villagers usually block the single stall's front side when it's time to make a sale), but it's still very rewarding in terms of leveling because the Blacksmith gets the same experience scale: a successful Compliment Taste/Butter Up/Hustle interaction rewards the Blacksmith with 10 to 20XP each, while a successful sale results in 150XP. The browsing villagers can be lured out to the game tables if the blacksmith has one, making it far easier to gain experience (as the patch only allows one purchase per day, a routing issue disables the ability to sell a product and denies the sim experience).
Craft and Deliver a Crude Longsword, Crude Plate Mail, or Basic Staff (Easy)
Fix and deliver a Broken Sword (Easy)
Pay Taxes (Easy)
Successfully Mine 3 Times (Easy)
Forge 2 Bear Hide Armors, 2 Boarding Blades, & 2 Reinforced Shackles, followed by Deliver Purchase Order to Pirate [Pirates & Nobles] (Hard, Neutral or Pirate-alignment, level 2 required)
Forge 2 Crude Plate Mails, 2 Bardiches, & 2 Reinforced Shackles, followed by Deliver Purchase Order to Guildsman [Pirates & Nobles] (Hard, Guild-alignment, level 2 required)
Repair Guildsman|Pirate's Rowboat, followed by Return Repaired Boat to Owner [Pirates & Nobles] (Easy)
Leveling
Level
Title
Abilities
Notes
1
Journeyman Smith

Can create basic weapons, armors and items at the Forge
Can mine Ore from exposed rock
Goods can be sold at the Smithy's Market Stall

Recipes:




2

New weapons, armor and Kingball paddles unlocked at the Forge
Metalworking requires slightly less time and has a slightly higher chance of success
Can mine Ore from exposed rock
Goods can be sold at the Smithy's Market Stall

Recipes:




 Greatsword
 Fiery Greatsword
 Plate Mail

Expert Paddle

3

New armor, hammers and staves unlocked at the Forge
Metalworking requires slightly less time and has a slightly higher chance of success

Recipes:




4

New weapons unlocked at the Forge
Metalworking requires less time and has a higher chance of success

Recipes:




5
Blacksmith

New weapons, armor, hammers, and Kingball paddles unlocked at the Forge
Metalworking requires noticeably less time and has a noticeably higher chance of success

Recipes:




6

New weapons, armor and staves unlocked at the Forge
Metalworking requires a lot less time and has a lot higher chance of success

Recipes:




7

New armor unlocked at the Forge
Metalworking requires much less time and has much higher chance of success

Recipes:




8

New armor, weapons, hammers, staves unlocked at the Forge
Metalworking requires much less time and has much higher chance of success

Recipes:




9

New weapons and armor unlocked at the Forge
Metalworking requires almost no time and has a great chance of success

Recipes:




10
Forgemaster/

Forgemistress

New weapons and armor unlocked at the Forge
Metalworking requires almost no time and has a great chance of success

Recipes:




Bonus Levels

Further leveling will increase money/day and improve profession interaction success
P = Requires Pirates & Nobles
M = Requires Manual of Blacksmithing