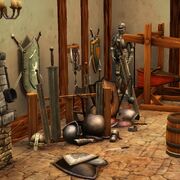 Equipment or gear is made by a blacksmith and can be used by any Sim. A forge and anvil are required for the blacksmith to practice his or her craft, as well as a hammer. Wizards can also forge Fiery swords and Staves as they progress past level 5.
The Attack/Defense/Weight/Power ratings of items shown on this page are the values at each item's default quality as listed in the in-game recipe list. Higher quality, however, will often improve the ratings for most (but not all) equipment, increasing Attack, Defense and Power while decreasing Weight. Most Swords can also be sharpened for an additional +1 Attack, (+2 for rapiers, no bonus for the Doomsword)
The Sims Medieval: Pirates and Nobles (P&N) expansion pack added more equipment to the game, including: 2 Paddles, 4 Shovels
Quality of Equipment
Equipment has a quality property which may modifies the basic stats in additon to influencing its value in simoles. In most cases, the values shown in the table below (and in recipes and in-game callouts) are based on 'Normal' quality (with the exception of some top-tier equipment and quest items). Some equipment cannot have improved quality beyond its inherent quality, usually at the lowest and highest tiers (e.g. Basic Staff, Doomsword).
Quality and Stats
In general, equipment crafted at higher quality than its inherent quality will gain a +1 bonus to its primary stats or -1 to its weight (if applicable). For example, say the Longsword at Normal quality has the stats Attack:3, Weight:5. At Excellent quality, it gains -1 to weight. At Legendary quality, it gains an additional +1 to attack (for a net stats of Attack:4, Weight:4). If it is sharpened, it gains an additional +1 attack.
There are some exceptions to this rule, for example the Sword of Smortlee which has basic stats of Attack:4, Weight:5, but tops out at Attack:6, Weight:4. (which could be the actual result of having a lower than Normal inherent quality)
Quality and Value
In general, an Excellent quality item costs 20% more than a Normal quality item, while a Legendary quality item costs 50% more than a Normal quality item. Some items can not be sold, eg the Doomstaff and Light Bringer.
Armor
Image
Name
Price
Defense
Weight
Ingredients
Level
Ramshackle Chestguard
40
1
5
 Cruddium: 7
Bear Hide Armor
200
2
2
 Bear Meat: 2
 Ferrous: 2
Chainmail
100
3
3

Chainmail/recipe

Chainmail/recipe

Chinchilla slayer Armor(objectify)
6
3
From Fur Quest (Bloody Harvest approach).
Crude Plate Mail
75
4
9
 Cruddium: 4
 Ferrous: 5
Plate Mail
100
5
8
 Cruddium: 3
 Ferrous: 8
Steel Plate Mail
175
5
7
 Ferrous: 7
 Phosphorus: 3
Advortonian Scale
300
4
2
 Electrum: 4
 Ferrous: 5
 Phosphorus: 2
Knight's Plate
400
5
6
 Ferrous: 6
 Mithral: 2
 Phosphorus: 3
Lord's Plate
750
6
6
 Azurite: 2
 Ferrous: 4
 Mithral: 4
 Phosphorus: 2
Adamantle Battleplate
1300
6
4
 Adamantle: 4
 Electrum: 4
 Mithral: 6
Darkstone Bulwark
2500
7
5
 Azurite: 2
 Mana Stone: 7
 Mithral: 7
Angelsguard
16500
9
1
 Electrum: 3
 Mana Stone: 5
 Mithral: 8
 Mystical Metal Fragment: 4
Doomplate
18000
10
5
 Adamantle: 4
 Mithral: 4
 Mystical Metal Fragment: 2
 Unicorn Horn: 1
Spiked Carapace
375
5
2
 Adamantle: 3


Crab Bandit's Shell

(create): 1
 Ferrous: 4
craftable only in Crab Bandit quest
Knight's Plate (War Games)(objectify)
5
6
From War Games Quest.
Monarch's Armor of Fortitude
500
4
3
From First Steps Quest.
Lord Knight's Bulwark(objectify)
10
4
From quest Gilded Guilds-Fighters Guild approach.
Goblinsoul Armor
250
6
4
quest Goblins!
Faulty Armor
5
2
Cruddium: 6
Noble Lord's Armor(objectify)
10
4
Questing
Reaper Disguise
1
1
Demonshroud(objectify)
7500
8
3
Treasure Hunting
Defender's Mail
7
4
quest reward Fighters Guild
Swords
Image
Name
Price
Attack
Weight
Ingredients
Level
Crude Longsword
25
0
8
 Cruddium: 5
Untempered Longsword
50
1
6
 Cruddium: 2
 Ferrous: 3
Longsword
70
3
5
 Ferrous: 5
Greatsword
175
5
10
 Cruddium: 6
 Ferrous: 1
Fiery Greatsword
6
10
 Flame Sword Enchantment: 2
 Greatsword: 1
Steel Longsword
125
4
5
 Ferrous: 5
 Phosphorus: 2
Fiery Steel Longsword
625
5
5
 Flame Sword Enchantment: 1
 Steel Longsword: 1
Embossed Longsword
250
4
4
 Adamantle: 2
 Electrum: 2
 Ferrous: 3
 Phosphorus: 2
Fiery Embossed Longsword
5
4
 Flame Sword Enchantment: 1
 Embossed Longsword: 1
Precise Scimitar
350
3
1
 Ferrous: 4
 Mithral: 2
 Phosphorus: 2
Fiery Precise Scimitar
850
4
1
 Flame Sword Enchantment: 1
 Precise Scimitar: 1
Mithral Longsword
800
5
4
 Adamantle: 3
 Mithral: 5
Fiery Mithral Longsword
1300
6
4
 Flame Sword Enchantment: 1
 Mithral Longsword: 1
Mana's Edge
2000
6
4
 Mana Stone: 5
 Mithral: 7
Watcher's Blade
500
5
5
 Adamantle: 1
 Consecrated Well Water: 2
 Ferrous: 7
 Phosphorus: 2
Sword of the Chinchilla
6
6
 Ferrous: 7
 Mana Stone: 1
 Phosphorus: 3
Tooth of Jacob
1200
7
5
 Adamantle: 1
 Mithral: 1
 Watched Water: 2
 Watcher's Blade: 1
Angel's Talon
13500
8
3
 Mithral: 10
 Mystical Metal Fragment: 3
Doomsword
15750
10
0
 Adamantle: 4
 Doomsword Blade: 1
 Doomsword Hilt: 1
 Mana Stone: 4
 Mithral: 3
Galatine
500
7
3
 Adamantle: 3
 Divine Catalyst: 1
 Mana Stone: 1
 Mithral: 2
 Superior Alloy: 1
Seraphim
500
7
3
 Adamantle: 3
 Divine Catalyst: 1
 Mana Stone: 1
 Mithral: 2
 Superior Alloy: 1
Balmung
500
7
3
 Adamantle: 3
 Mana Stone: 1
 Mithral: 2
 Superior Alloy: 1
 Tremendous Catalyst: 1
Trenfher
500
7
3
 Adamantle: 3
 Mana Stone: 1
 Mithral: 2
 Superior Alloy: 1
 Tremendous Catalyst: 1
Longclaw(objectify)
5
4
4 Ferrous, 3 Mithral, Crab Bandit's Shell.
craftable only in Crab Bandit quest
Monarch's Blade of Strength
4
5
From First Steps Quest.
Royal Longsword(objectify)
6
3
From quest War Games.
Animuslaver
8
1
From quest ANIMUSLAVER!.
Beast's Bane
4
6
* Recipe rewarded in one of the approaches in the quest Evolution of Chinchilla.
Sword of Smortlee
4
5
* Recipe possibly gained in the quest Royal Holiday
Goblinsbane Blade
600
6
4
From Goblins! Quest.

Jacoban Flame Sword
5
4
From Death of the Proxy Quest.

Berserker's Sword
7
4
From quest Gilded Guilds- Fighters Guild
Lord Knight's Light Bringer(objectify)
N/A
9
1
From quest Gilded Guilds- Fighters Guild
Bardiche
5
8
Cruddium: 2, Ferrous: 3, Phosphorus: 1
Fiery Bardiche
575
6
8
Bardiche: 1, Flame Sword Enchantment: 1
Reforged Sword of Reverence
8
1
Electrum: 7, Mithral: 7
Boarding Blade
4
6
Ferrous: 6
Fiery Boarding Blade
600
5
6
Boarding Blade: 1, Flame Sword Enchantment: 1
Frostfang
4000
7(+2)
2

Fake Mithral Sword

5
4
Ferrous: 1, Phosphorus: 1
Blacksail's Blade
9
5

Sword of Reverence

5
4
Ferrous: 2, Phosphorus: 2
Admiral's Vengeance
6
1

Rapier

3
2
Electrum: 2, Ferrous: 1, Phosphorus: 2

Fiery Rapier

675
4
2
Rapier: 1, Flame Sword Enchantment: 1

Cutlass

4
5
Ferrous: 6

Fiery Cutlass

5
5
Cutlass: 1, Flame Sword Enchantment: 1
Dread Pike
5
3
Ferrous: 3, Mithral: 2, Phosphorus: 2
Captain's Cutlass
1200
7
7
Electrum: 8, Ferrous: 4, Mithral: 7, Phosphorus: 2
Gilded Rapier
1500
5(+2)
2
Azurite: 2, Electrum: 2, Mithral: 7
Staves
Image
Name
Price
Power
Ingredients
Level
Basic Staff
10
1
 Cruddium: 1
Treemancer's Staff
250
2
Staff of the Watcher
750
3
 Electrum: 3
 Ferrous: 3
 Wizard's Staff Core: 1
Genie's Staff
5
Staff of Indeterminate Evil
1100
5
 Mithral: 4
 Phosphorus: 2
 Wizard's Staff Core: 1
Magical Staff
1750
7
 Adamantle: 3
 Mithral: 4
 Wizard's Staff Core: 2
Doomstaff
N/A
10
 Adamantle: 3
 Arcane Edge: 1
 Mana Stone: 2
 Soul Fragment: 7
 Wizard's Staff Core: 2
Staff of the Magi
8
From Gilded Guilds Quest (Mages Guild approach).
Worthless Staff
10
Ferrous: 7

Golden Arciform

2200
6
Ancient Powder: 2, Electrum: 3, Mana Stone: 2, Mithral: 4, Wizard's Staff Core: 2
Hammers
| Image | Name | Price | Tone | Note |
| --- | --- | --- | --- | --- |
| | Beginner's Lute | | Flat | Bard starts with this automatically |
| | Peasant's Lute | 135 | Sharp | Village shoppe |
| | Sturdy Lute | 607 | Melodic | Village shoppe |
| | Masterwork Lute | 1035 | Rich | Village shoppe |
| | Pirate Raiding Parrrty Lute | | Rich | Village shoppe; requires Pirates & Nobles; War Effort Gauge fully aligned with Pirates |
| | Consortium Lute | | Epic! | Village shoppe; requires Pirates & Nobles; War Effort Gauge fully aligned with Guild Consortium |
| | Heavy Metal Lute | 1755 | Epic! | Village shoppe |
| | Lute of the False Muse | | Epic! | Gilded Guilds quest |
| | Golden Lute of Euphony | | Divine | Gilded Guilds quest |
| | Jeweled Lute of the Watcher | 3150 | Divine | Village shoppe |
Paddles
Image
Name
Price
Power
Ingredients
Level

Rookie Paddle

0
0
None
Gained when practising/playing at Kingball Court without a Paddle.

Rustic Paddle

Rustic Paddle

50

Rustic Paddle

[[

Rustic Paddle

]]
[[

Rustic Paddle

]]

Expert Paddle

Expert Paddle

125

Expert Paddle

[[

Expert Paddle

]]
[[

Expert Paddle

]]

Excalipaddle

Excalipaddle

500

Excalipaddle

[[

Excalipaddle

]]
[[

Excalipaddle

]]

Ivory Paddle

Ivory Paddle

250
5
Electrum: 4, Mithral: 3

Obsidian Paddle

Obsidian Paddle

500
6
Adamantle: 2, Mithral: 3
Shovels