Fishing is a skill every sim has from the beginning and no fishing pole is required. The success rate of fishing is dependent on a sim's focus; as with other activities that can be failed, sims get experience upon successful completion.
Fishing can only be done in areas of water which bubble and have jumping fish.
List of Fish
These fish can be fished up from pools or bought from the Village Shoppe.
Leeching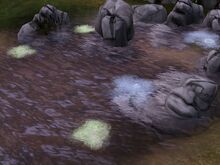 Physicians are the only Hero that can collect from Leech pools. The following are fished out of Leech pools; green bubbling spots, found in rivers and the ocean.
See Also
*Although Whale meat is technically fish, it is categorized under hunting as only certain sims can go on a whale hunt.
Community content is available under
CC-BY-SA
unless otherwise noted.