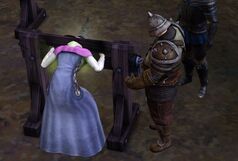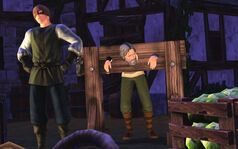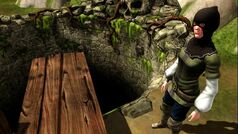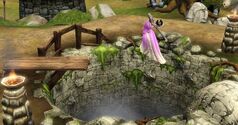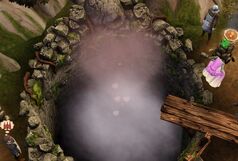 The Judgement Zone is where criminals (and whomever the monarch dislikes) are sent for imprisonment, humiliation, and occasionally execution. The hangman lives in this area. In the quest "The Beast Must Diet" in the Pirates and Nobles expansion, the Pit Beast's name is revealed to be Griselda.
The Constable
The almighty embodiment of justice in The Sims Medieval. Whenever a crime happens, he will arrest the villain and either lock him in the stocks or throw him in the pit. Although the constable will also arrest anyone the monarch has condemned to death or the stocks, even royalty isn't above the law.
The Stocks
The stocks are used as punishment for minor crimes. While locked in the stocks, Sims are unable to move and are subject to being pelted with eggs and tomatoes by passing Sims, who may decide to spend the rest of the day humiliating a prisoner.
Interactions:
Effects:
Pit of Judgement
Major crimes are punished by execution in the form of being fed to the Pit Beast who lives in the Pit of Judgement. The victim is prodded out onto a plank overlooking the pit before being pushed in, making nearby Sims gather around the pit to watch the ensuing fight. In almost all cases, the last that's seen of the victim is a few bones that are tossed out of the pit after the beast is done consuming them.
Interactions:
Effects:
It is possible for a hero to survive a trip into the pit. Feeding the beast a hunk of meat before entering the pit will increase the chances of survival considerably. High focus almost guarantees survival, while low or negative almost guarantees death. Fighter type heroes (Monarch, Knight and Spy) have no advantage over others.
It is also possible for a Ticktop golem to survive the Pit of Judgement. Ticktop Golems appear in your kingdom after you have annexed Ticktop via the quest Golems Gone Wild.
Wizards that are thrown into the Pit of Judgement will fight in an explosion of sparks and lighting.
Crimes
Minor (go to the stocks)
Major (go to the pit of judgment)
Rewards
Spoiler warning!
This article contains information about the game that players may wish to discover themselves.
Hero Sims can gain several rewards from surviving in the pit:
Gallery