Quest Loot Table
Platinum
RP
§
XP
Aspects
Gold
RP
§
XP
Aspects
Silver
RP
§
XP
Aspects
Bronze
RP
§
XP
Aspects

A respectful member of the <Kingdom> community agreed to step up and act as the kingdom's ruler for a short time. What could possibly go wrong?
I Will Do It!
is the only approach to the quest
King For A Day
and costs 3 QP to start. Any Sim is eligible for the quest except the
Monarch
.
The storyline takes you through several odd instances that require a
Monarch
's attention. The first of these events is a bunch of stinky cheese on the ship. Every hero has a different way of dealing with this problem. So far, it has been determined-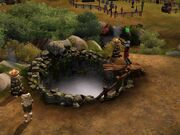 *Quest choices do not affect overall outcome*
Walkthrough
completed with Merchant
Let Monarch know you are ready to be Proxy --> Sit on the Throne
Visit the Town square --> Ask a Nauseated Villager about the stench
Question Town Crier about malicious Rumors -->
Choice- Deal with Town Crier with Conversation -or- Intimidate?
Conversation- Become Friends with Town Crier
Intimidate- Harass until Disliked relationship level is achieved
Board the ship to get the Stinky Cheese --> Attempt to sell "Gourmet" Cheese in the Village shoppe
Return to the Throne room --> Question Royal Advisor about the Disturbance
Talk to one of the Revelers about Disturbance
Choice- Shut Down the party -or- Live it up!
Shut Down- Shut the party down (talk with reveler)
Live it up!- Speak with Reveler to join party --> Revel with Revelers (wait for action to countdown) --> tell Revelers of Monarch's return
Choice- Don't get a Homecoming gift -or- Get a gift
No gift- Monarch will be returning soon! (1hr wait)
Get a gift- Buy Homecoming gift for Monarch --> (go to village shoppe) --> Give Monarch the gift
Give the Monarch a Status report
(Quest ends)
Community content is available under
CC-BY-SA
unless otherwise noted.