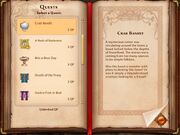 Quests
are one of the three pillars of
The Sims Medieval
. The player can complete quests to advance their
Kingdom
and gain
experience
for characters.
The player is given a menu with all available quests (or...you can use Ctrl+Shift+C rerollQuests for a new selection of quests to choose from). After selecting a quest the player must immediately select an approach to the quest, some have as many as 3 different approaches. Each approach has certain Heroes who can or can not participate, certain locations and some even offer unique opportunities (armor, weapons, Legendary Traits).
Focus Performance Rank
If Focus is positive, quest performance rank goes up. If Focus is negative, quest performance rank will go down.
However, regardless of focus, if you are Behind on Quest, then performance will suffer until you get back on track.
Rank
From
Notes
Platinum

Highest Rank
Grants achievement

Gold

Rank needed to unlock some Ambitions
Grants achievement

Silver

Rank needed to unlock more Ambitions
Grants achievement

Bronze

Lowest Rank
Grants achievement
Quest Points (QP)
Quest Points (QP) are used to "purchase" all quests for the kingdom's heroes to go on
Each quest costs 1, 2, 3, or 4 QP
QP will not be "refunded" if a quest is cancelled before it's completed
The number of QP a kingdom starts with depends on its Ambition (possible to increase the number of QP a kingdom has with cheating)
Figure out cost efficiency of quests before spending QP (most Resource Points, Experience, wealth, and Aspect value per QP spent)
**If Advorton is annexed, their Adventurous citizens will "help streamline costs for quests," reducing the QP costs of quests that normally cost 3 or 4 QP by 1.
Quest Completion
By completing the quest objective/storyine, your Hero will be rewarded with: money, hero experience, level ups, kingdom Resource Points and increase in kingdom Aspects
Quest Failure
Should your Hero ever have the Quest Performance gauge fall below the Bronze requirements however from poor Focus or Quest Neglection, your hero will be sent to the Pit. Ending the quest in failure.
See also